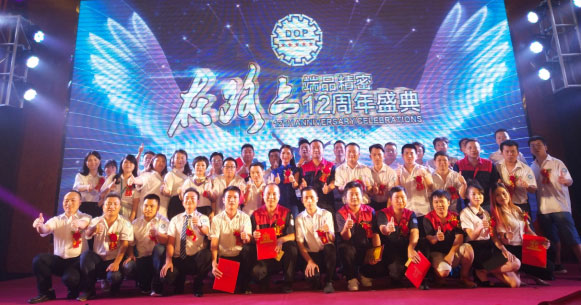 Corporate vision: Improve the competitiveness of customers and realize the employee's self-worth.
Corporate mission: Make every effort to provide customers with satisfactory quality, delivery and service and create more value for customers!
Operation philosophy: High precision, high quality and high efficiency.
Quality policy: Customer-oriented, quality-based, precise manufacturing, continuous improvement.
DOP spirit: Solidarity, mutual assistance, development, enterprising, sincerity and win-win.
Team spirit: Concerted effort, mutual support, sincere cooperation jointly to build a better future!

DOP Precision is promoting the equity incentive mechanism, currently, DOP Precision has 53 staff shareholders, which will be increased once every two years, thus realizing the objective that all staffs hold the shares.
Elite team
In the fierce competition, sincere cooperation can motivate the resources and talents of team members. Team spirit is the core of corporate culture.To condense a power, to provide a spirit, to accomplish a mission together.After over a decade of hard working, DOP Electronics has cultivated a number of industry elites and formed power-filled elite team.
R & D and design
The company possesses professional R & D design team who is responsible for the R&D and design of new products and moulds. According to the market situation, set up the technology strategy and development objective of different stages of the company, research the technical development trend of the industry, explore the possibility of new projects and new products. Excellence in work is possible only with diligence, the R & D Dept.make all efforts to meet the demands of clients, and is committed to manufacture of quality products. Win the trust and praise from the clients. The engineering design software includes SolidWorks, Pro-E, UG, VISI ,AutoCAD and so on.